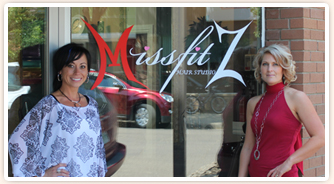 Mission Statement:
Your vision is our creation……..
Utilizing the latest trends and techniques Lindsee and Angela will enhance your beauty and teach you what you and your hair are capable of. We too understand time restraints of daily life and hectic lifestyles, we will help make your hair a "non issue"!!
Angela and Lindsee are excited to make all your "hair days" good ones.
When creating Missfitz it was important that the space represent Angela and Lindsee and be an extension of the girls. The name "Missfitz", Angela and Lindsee each sharing a common goal in the success of Missfitz Studio and their love of hair, they are unique to one another in many ways. Each have their own unique style while both bringing their own uniqueness to the studio and their clients.
A couple of "Missfitz" but work together like "ebony and ivory"
At Missfitz Lindsee and Angela have crested an atmosphere they feel best expresses their love of their profession,to have a professional atmosphere and having all the amenities to create the latest trends. It was also very important for the girls to have an inviting and warm atmosphere for both new and existing clients . Everything they would need to serve their clients to the highest of quality.
When first walking through the doors of Missfitz the decorating exudes the girls love for color, unique accents that express their individuality, and a warmth and comfort that make you feel at home.
Angela and Lindsee retail Redken professional product. It was important to choose a product line that best represented what we believe in: education and longevity in the industry. Selling and using only what we believe in, we are committed to our Redken Color lines and are confident that the Redken Shampoos and Styling Aids will best support our vision for our clients finished product. Making your vision our creation working together for a common goal…….beautiful hair.
At Missfitz Lindsee and Angela understand without our clients we would be unable to express our love for hair. We appreciate the trust our clients put in them and value our clients patronage.
Wanna be a Missfitz………….?!?!
Angela Grohn
Graduated from Marvel Beauty School in 2004
Received Journeyman Certificate in 2006
Attended Redken Education – "Everything's Included", 2006
Attended Schwarzkopf Essential Looks, 2011
I have been in the industry for 6 years professionally but my heart was in it long before then. Girls weekends often turned into myself helping everyone primp to look their best for the day. I have always loved styling hair from when I was a little girl to now and am very privileged to be able to have made a career out of it! I love fashion and express my style daily. Yes, I love getting ready for an event or just a family outing.
I am passionate about education. It is extremely important to me to stay up on the latest trends to keep all my clients on the modern edge of fashion. Fashion magazines, and modern day trends aren't a hobby to me they are my passion.
Every client who sits in my chair is a makeover story. I love updating and refreshing my clients looks to give them anew lease on life. Finishing is my passion….making sure each piece of hair is sculpted just right to enhance my clients personal style. As I turn my client to face the mirror and show them my creation……I love watching my clients face react to the gift of art I have just given them.
I am very grateful to all of my clients for letting me express my love for hair in each and every one of you. I promise to give 100 percent to all of my clients every time they sit in my chair.
Angela's Testimonial
When I first moved to Weyburn I was in dire need of finding a stylist! Everyone I talked to said " you have to go and see Lindsee, she is the best! I called her and she she got me in! I had never sat in a stylists chair and felt so comfortable. I had total trust in her from the first moment in her chair! Lindsee inspired me to follow my dreams to become a stylist! She said that you are never to old to follow your dreams! And I listened to her! Lindsee has an amazing talent that she portrays every day in herself and others! If you are in her chair you are guaranteed to be walking out of the salon with a smile on your face and a warmth in your heart. She has as much love for her clients as she does for hair! I am very honored to be able to run a business and work beside this amazing person every day!
Lindsee M. Michel

Graduated from Moose Jaw Academies in 1994
Received Journeyman Certificate in 1996
Competed in Gould's Woman's Total Look in 1998
Competed in Contessa Photo Competition in 1998…..placed 10th in Canadian standings
Competed in Woman's Finishing at ABA in 1999…..placed 7th in Sk
Redken REA 2003: Worked for L'Oreal Canada teaching fellow stylists the latest hair trends and techniques.
I have had many opportunities over my 18 years in the industry. I have met many amazing talented stylists. I love motivating and mentoring new stylists, learning so much from their new found love and excitement for our profession while at the same time refreshing my knowledge . I enjoy sharing the mistakes I have learned over the years sharing stories from the past and excitement for the future. The energy is electrifying!
Over time I have seen all aspects of the hair industry. This has shown me time and time again that my true love and passion is behind the chair…….I LOVE HAIR! I love sharing with my clients the latest techniques and products and I get so excited when we can find their personal style that works for their daily life while giving them a modern edge.
There is nothing more rewarding to me than seeing a refreshed twinkle in someone's eye, smile on their face, and skip in someone's step that says they are ready to take the world on…….all because they feel great about the way they look.
I am very thankful that I am able to do what I love. Without my clients doing what I love would not be possible. I am honoured when given the oppurtunity to help someone express their vision of who they are.
I live by the phrase……"you are only as good as the last person who left your chair." This motivates me to do my best for all of my clients.
Lindsee's Testimonial

I began working with Ang as soon as she entered the profession. It was quickly obvious what an extremely talented stylist she was. She had a love and passion for hair that can not be taught in any school and the drive to learn and continue to challenge herself to become better one client at a time.
Ang accompanied me to a few different presentations. Each time i would introduce her it was a privilege. Having such a talent beside me but i was also truly confident in recommending her to anyone in the audience.
As most of us understand it can be more then just getting your hair done when your in your stylists chair. Her success also grew quickly with her ability to make her clients comfortable in her chair. Ang has the ability to be confident in what she is doing making her clients feel secure in her skill and her keen ability to communicate her vision makes her clients excited about their end product.